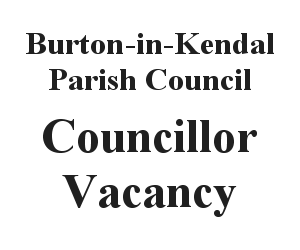 BURTON-IN-KENDAL PARISH COUNCIL
www.burton-in-kendal-pc.gov.uk
Clerk to the Council
Christine Davidson
Hilderstone Farmhouse, Hilderstone Lane, Burton-in-Kendal, LA5 9RR
This email address is being protected from spambots. You need JavaScript enabled to view it.
VACANCY FOR PARISH COUNCILLOR
Are you aged 18+?
Do you live in or within 3 miles of the Parish?
Do you own or lease land or property in the Parish?
Do you work in the Parish?
A challenging and rewarding position. Your chance to be actively involved in local issues.
Please contact The Clerk for more details or send your application letter to:
This email address is being protected from spambots. You need JavaScript enabled to view it.